Press release
RESOURCE CAPITAL PARTNERS closes first deal in Germany with the purchase of a Plateno Hotel in Leipzig
10/09/2018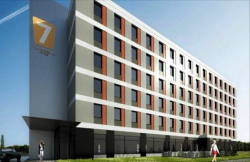 The development company Property Team AG has successfully sold its budget lifestyle hotel development at Leipzig / Halle Airport to an institutional client of Resource Capital Partners (a european asset manager for French and Spanish institutional investors).
The hotel was opened with 150 rooms in March 2018 and is the first new building in Germany for the Asian hotel group Plateno with more than 4,400 hotels worldwide. The Hotel at Leipzig Airport operates under the 7 Days Premium brand.
The three-star hotel starts with a forward-looking concept. An open lobby on the ground floor has been integrated, which combines the reception with breakfast and co-working areas. In addition, on the ground floor was integrated a modular space into the concept to get a room for meetings. Targeting young, tech-savvy visitors, the three-star hoteloffers the latest technologies, such as smartphone check-in, and maintains a forward looking concept. Due to the good connections, the hotel also benefits from the development of Leipzig. The Leipzig / Halle Airport is great importance for vacationers, but also for companies and corporations as a strategically important location in EastGermany.
RESOURCE CAPITAL PARTNERS closes first deal in Germany with the purchase of a Plateno Hotel in Leipzig
Volver