Press release
RESOURCE CAPITAL PARTNERS completes the purchase of the office building "De Winthont" in Utrecht (Netherlands)
11/07/2017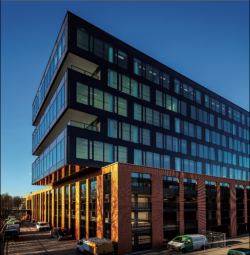 The building, delivered in December 2016, has a total GLA of 8.605 m2 and is let to Brunel, Celgene, Promedico, Bolton, Maandag."
"De Winthont" is part of a real estate complex including the hotel Van de Valk.
The purchase has been done on behalf of a France based investor, for an amount of €32m. Vendor was Onis Vastgoed. This is the first deal of investment manager Resource Capital Partners in The Netherlands, as well as for its investor.
Resource Capital Partners completes the purchase of the office building "De Winthont" in Utrecht (Netherlands)
Volver